MK Vertalingen recently translated the Bendoo Box user manual into several languages for publisher Reshift in Haarlem (the Netherlands). MK Vertalingen translates technical manuals every day, but it is rare that a manual is written for children between 10 and 14.
The Bendoo Box contains a Raspberry Pi, a small computer the size of a bank card. Children can use this cheap, yet unbelievably strong and small computer, together with all the other contents of the box, to build their own computer, robot, website, apps and lots more.
Bendoo Scratch
The creator of the Bendoo Box, Ramon Wieleman, wants to teach children to program computers and use technology; after all, every child knows how to download an app or use a tablet. But, how much more fun would it be to make the app yourself, or to use the technology for all sorts of inventions, such as talking alarm clocks, a remote door opener, robots, and lots and lots more? 

By giving them step-by-step instructions in a well-written manual and through social media and the digital platform, bendoobox.nl, they can grow into genuine 'Bendoo Gurus'.
After Ramon submitted the InDesign files of the manual as idml files, MK Vertalingen translated them into English, French, German and Polish. In August, the first expansion set manual was added: programming a road junction with four real traffic lights. Ramon is now fully occupied with writing a learning path for primary schools. This package will be offered as a complete curriculum, including learning objectives, lessons and videos so children can learn programming languages such as Scratch and Python, in addition to English.
Enthusiasm and fun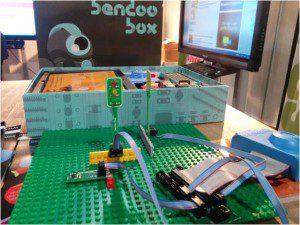 Ramon says this about his project and his collaboration with MK Vertalingen:  "When I started with the Bendoo Box, I had no idea that this would become an international product. But, encouraged by the enthusiasm from schools and the consumer market, we decided to take the plunge. We submitted the formatted articles as idml files to MK Vertalingen and they were always returned correctly and ahead of the deadline. The enthusiasm and fun that was had translating the texts is obvious from the end result. And that was also exactly the purpose of the Bendoo Box: to start a project with great enthusiasm and fun, even before you know what it entails!"
Would you like to know more about the Bendoo Box? Please visit www.bendoobox.nl.  Are you planning on having your manual translated? Please contact us or request a quote here.