Sometimes, inventions are so obvious that you could have thought of them yourself. Yet you didn't come up with the idea. Bart Kelderman did. Kelderman is an inspired inventor and one of the owners of the TBK Group in Renswoude. For 18 years he has been looking for ways to reduce downtime, pollution and wear and tear of conveyor belts for, among others, mining and transshipment companies.
Simple solutions
For example, the TBK Group developed the SPILL-EX sealing system. A simple solution to a problem that has been plaguing the industry for years. When transferring bulk material from one conveyor belt to another, long rubber sealing strips are often used to prevent spillage of material. These sealing strips wear off unevenly, and therefore become difficult or impossible to adjust. Adjustment and replacement is a time-consuming task.
The TBK Group developed a sealing strip consisting of separate block elements, with each element able to be adjusted or replaced. If a part wears, only the worn components need to be replaced. This allows for a perfect seal at the discharge point, making maintenance a piece of cake. So simple, it's almost child's play.
Ready to conquer the world
Another invention is the CenTrax belt tracker, which prevents misalignment of conveyor belts. Thanks to the tapered rollers, CenTrax immediately detects the slightest misalignment. The central roller instantaneously guides the belt back to the correct position. The frame is freely adjustable in both width and height.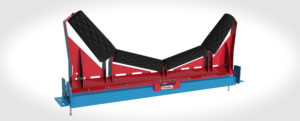 Bart Kelderman never sits still. Kelderman is currently working on the TBK Group's latest development, the 'Ceradisc'. Although he doesn't yet want to reveal what this might be. TBK is pushing forward and is ready to conquer the rest of the world. MK Vertalingen became acquainted with TBK when we were asked to translate their website and brochures to promote the CenTrax belt tracker internationally.
Outstanding translation work
Bart Kelderman' s opinion of the collaboration: "Translating our technical jargon is a complex task. This is where MK Vertalingen clearly distinguishes itself from other translation agencies, and searches for the correct translation across all types of professional publications. The lines are conveniently short, and MK delivers excellent translation work at the agreed deadline, and for an excellent price."
Are you looking for a translation agency that is able to translate difficult or specialized terminology? Please contact us at info@mkvertalingen.nl or call us on 020-7055182. If you would like to receive more information, click on TBK Group or CenTrax belt trackers.